15 Nights / 16 Days

Duration

Cost Per Person

Cost

Private AC Car

Transport

Daily Breakfast

Included Meals

3 Star To 4 Star

Hotels Used
Delhi - Mandawa - Bikaner - Jaisalmer - Jodhpur - Ranakpur - Udaipur - Chittorgarh - Bundi - Pushkar - Jaipur - Fathepur Sikri - Agra
Overview
This tour is of 15 nights and 16 days which covers all major heritage destinations of Rajasthan i.e. Mandawa, Jodhpur, Bikaner, Udaipur, Jaisalmer, Jaipur, Chittorgarh, Ranakpur, Bundi, Pushkar alongwith Fatehpur sikri and Agra.

Itinerary
Day 1 : Arrive Delhi
Arrive Delhi. Transfer to hotel. Overnight Delhi.

Day 2 : Delhi
Tour of Delhi. In Old Delhi visit the Raj Ghat - the cremation sites of Mahatma Gandhi , Jama Masjid and drive past Red Fort and Chandni Chowk. In New Delhi visit the Qutub Minar built by Qutub-ud-Din Aibek in 1199, Humayun's Tomb, India Gate (War Memorial Arch ), Lakshminarayan Temple - a modern Hindu Temple. Also drive past President's House, Parliament House, Government Secretariat Buildings & Connaught Place shopping centre. Overnight Delhi.

Day 3 : Delhi - Mandawa
Drive to Mandawa/Shekhawati. Mandawa was founded in 1755 by Thakur Nawal Singh and is still the home of his descendants. Mandawa houses a collection of armories, costumes of ancestors, canons from 1820, ancient coins, numismatic collection and many other interesting items preserved in a museum. The whole area of Shekhavati has beautiful frescoes, havelis & mansions and is called the open air gallery.
Visit the villages of Mandawa, Dundlod & Nawalgarh.
Overnight Mandawa or any of the Shekhawati villages.
Day 4 : Mandawa- Bikaner
Drive to Bikaner. Afternoon tour of this desert city. Bikaner is bolstered by imposing walls and has a 16th century fort housing old palaces, temples and a mosque. Founded by Raja Rai Singh, the fort is distinguished by its long range of 37 pavilions, a line of balconies and aerial windows of varying designs. An enormous arched doorway leads to the Joramal Temple. The royal chapel is Har Mandir where royal weddings and births were once celebrated. Overnight Bikaner.
Day 5 : Bikaner Jaisalmer
Drive to Jaisalmer. Rest of the Day at leisure. Overnight Jaisalmer.

Day 6 : Jaisalmer
Morning visit Jaisalmer. Visit the Fort, bazzars and the old mansions known as "havelis". People still live in these ancient buildings dating from 12th to 15th century. Every house has exquisite carvings and filigreed work. Overnight Jaisalmer.

Day 7 : Jaisalmer Jodhpur
Morning drive to Jodhpur. Afternoon visit the Meharangarh Fort, situated on a low sandstone Hill, including Moti-Mahal and Phool Mahal. Also visit Jaswant Thada, an imposing Marble Memorium built in 1899 and the museum located in the Umaid Public Gardens. Overnight Jodhpur.

Day 8 : Jodhpur - Ranakpur - Udaipur
Morning drive to Ranakpur Temples. Ranakpur - 98 kms from Udaipur, the Jain Temples built in the 15th century are situated in the lovely valley of the Aravali. Its surrounding is quiet & picturesque. Ranakpur has grand structures & beautiful sculpture. There are 1444 pillars in the temple and none of them are similar. The magic of light & shade is really awe inspiring. Surya Temple and other Jain Temples are side attractions. Overnight Udaipur.

Day 9 : Udaipur
Morning tour of Udaipur. Visit the City Palace, Jagdish Temple, drive around Fatehsagar Lake, Sahelion ki bari (Queen's resort for her friends) and Bhartiya Lok Kala Mandir (Folk art museum). Afternoon free. Overnight Udaipur.
Day 10 : Udaipur - Chittaurgarh - Bundi
Morning drive to Bundi visiting Chittaurgarh enroute. 113 kms. from Udaipur, the Fort of Chittor was originally built by mighty Bhim, one of the Pandava heroes of Mahabharata. Also visit the Vijay Stambh with nine storeys and 37 mts high built by Maharana Kumbha to commemorate his victory over the muslim rulers of Malwa and Gujarat in 1440. Kirti Stambh, the Tower of fame 22 meters high is covered with figures from Jain Pantheon.


Bundi rises from a narrow gorge in rows of terraced gardens & arched Rajput houses like a two dimensional miniature painting imposed on the landscape. Visit the palace with its intricate spy-holes, secret trap doors and under ground passages. Also see the spectacularly ingenious water supply system. Ajmer was founded by the Chauhan ruler, Aiaipal, duringthe 11th century & is dominated by the Taragarh Fort built by Prithviraj Chauhan.
Overnight Bundi.
Day 11 : Bundi - Pushkar
Morning drive to Pushkar. In Pushkar, visit the holy Lake and also the famous Brahma Temple. Pushkar is one of the holiest places for Hindus. Overnight Pushkar.

Day 12 : Pushkar - Jaipur
Morning drive to Jaipur. Afternoon tour of Jaipur. Jaipur Rajasthan was given a colour coat of pink a century ago in honour of a visiting Prince. Built by Maharaja Jai Singh, the notable astronomer, this city is 260 years old. Visit Maharaja's City Palace, & the Observatory . Drive past Hawa Mahal & through the pink rose residential & business areas. Overnight Jaipur.

Day 13 : Jaipur
Morning visit the Amber Fort - the ancient capital of the State. Visit the Sheesh Mahal or the Hall of Victory glittering with mirrors. Afternoon free.Overnight Jaipur.

Day 14 : Jaipur - Fatehpur Sikri - Agra
Drive to Agra visiting Fatehpur Sikri enroute. Fatehpur Sikri is 40 kms from Agra and built by Emperor Akbar in 1569 and abandoned after 15 years due to scarcity of water. See the graceful buildings including the Jama Masjid, Tomb of Salim Chisti, Panch Mahal and other Palaces. Afternoon visit the world famous Taj Mahal built by the Moghul Emperor Shahjehan in 1630 for his Queen Mumtaz Mahal to enshrine her mortal remains. Later visit the Agra Fort containing the Halls of Public and Private Audience. Overnight Agra.

Day 15 : Agra - Delhi
Drive to Delhi. Free time to relax or visit local markets at your own. Overnight Delhi

Day 16 : Transfer to Airport
You May Also Like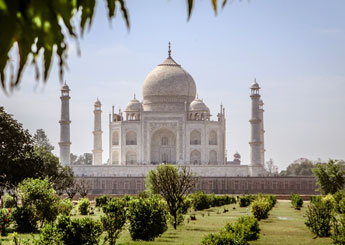 ₹8000 / PP
Valid from 02 Jan, 2020 to 31 Mar, 2020
₹8000 / PP
Valid from 01 Apr, 2020 to 30 Jun, 2020
Taj Mahal was built by Mughal emperor Shah Jahan in…Show More
₹11300Double Sharing / PP
Valid from 13 Jul, 2022 to 31 Mar, 2023
/ PP
Valid from 12 Jul, 2022 to 12 Jul, 2022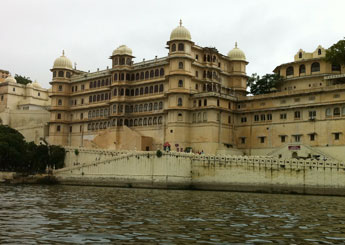 Price on Request
Valid from 01 Jan, 2020 to 31 Mar, 2020
Price on Request
Valid from 01 Apr, 2020 to 30 Sep, 2020
Bhavya Holidays Pvt. Ltd. offer various tour packages…Show More