Travelers this is for you guys.. What the dream holidays are made up of? Well, the swing of royal Rajasthan's route possesses all the accessories and decoration which makes it a perfect holiday destination. The State can be well defined as Palace of lacy sandstone, magnificent golden studded forts and bountiful of luxury. The state of kings has got many beautiful cities in its lap that majorly contains Jodhpur, Udaipur, Jaipur, Jaisalmer. Each of them specializes in its own unique ambiance and aura.
Let's check upon each city one by one:
Udaipur: This place is also popular as City of lakes which sounds contradictory to desert but again on the other hand it's a delightfully intriguing name given to the desert based city. Opposite to the Aravalli's range rise Udaipur's impressive, impossibly amazing Palaces and havelis.
This city palace is loaded with die for infrastructure where it is intricately decorated with towers, balconies and jharokas. Also you can see a museum inside offering a quick look of past portraits of Udaipur's fiercely victorious rulers named Zenana Mahal. Again the roof top and floor of the palace is worth watching as it acquires all the gorgeous mosaics, mirrors and tiles.
Jodhpur: Jodhpur was founded in the fifteenth century by Suryavanshi Rathore. Initially the town was not developed and known much but soon because of its geographical location, the business trade took the pace and ultimately the size and importance of the city too grew up like anything.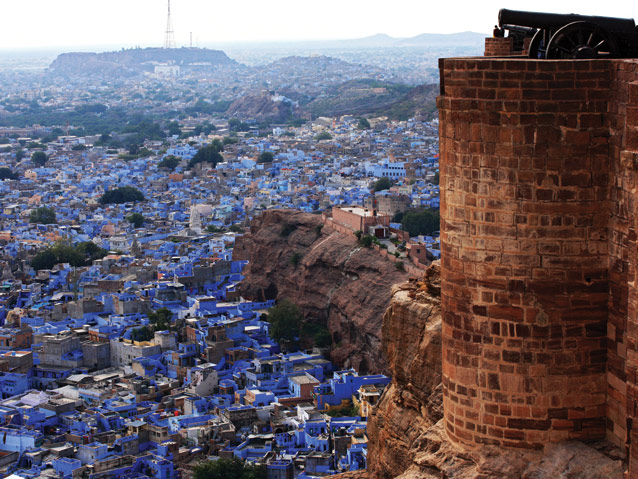 Meherangarh Fort is the popular one here which serve's the city as cherry on cake. It is still continues to be run by Maharaja's of Jodhpur. Earlier the name of the palace was Chintamani which means a mystical stone releasing its owner of worries. But later on they changed it to Meherangarh where mehr in their local language is meant for sun. Jodhpur is also famous for the Jeep safaris which can be found nearby bishnoi village area.